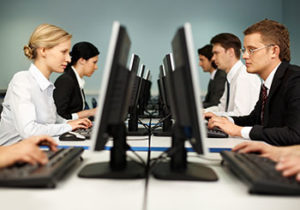 The cost of hiring a full time IT "guy" can be astronomical. Plus you need someone you can trust, that won't find a better job next month and knows what you need them to know without an ego. When it comes to the dependable IT support you're going to need regardless of your price range, that's how Technology Partners can help you today. We offer a professional and friendly team of experts to help with your everyday hourly IT services.
When you  need help with your IT services, Technology Partners can provide you with the following benefits:
Software training and support – Not only are we there when your business needs help recuperating from a disaster, we can help train your team to help prevent the next one. We also offer free web-based security training for your staff.
Help with absolutely anything – From broken computers to the design and configuration of computer networks, we're there for your IT needs. When the copier guy can't figure out a scanning issue; when the phone guy can't get his VoIP phones to work reliably; when IP cameras are constantly off-line - we are here for you.
Upgrade – To our flat-fee monthly services and no more worrying about how long we've been working on this or that. It also frees us up to do preventive maintenance without having to ask for a purchase order.
The experience and tech support you will get with Technology Partners in the Treasure Coast and nationwide will be professional and thorough. Call us today to see how our affordable, professional services can help you today.